The area can be divided, for management purposes, into enclosed and open hill land. Around 83 per cent of the Group is open hill managed as deer forest so this tends to be the focus of discussion.  The remainder is mainly enclosed forest and native woodlands. Many of the estates in the Group are run as businesses to which normal commercial considerations apply. Income from stalking is an important part of the estates' economy, providing employment and ensuring the management of the natural heritage in the area.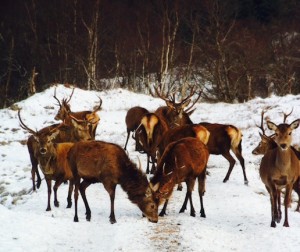 Key to sustaining these jobs and economic activity is the number of shoot-able stags taken each year. The ten year average stag cull has been 250 stags per year and the management of the population and habitat to produce a sustainable cull of this order is important.
Average red deer density across the group varies between 11 – 15 deer/100ha. With local densities ranging from 8 – 18 deer/100ha.  There are approx marginally less that 2 hinds per stag and calving percentages range for 27 per cent to 42 per cent reflecting weather conditions.
Roe and occasionally sika deer can be found in woodland areas with wild boar also becoming invasive.